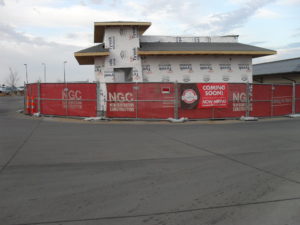 Temporary fence rental is a quick, easy, and cost-effective way of securing your job site. Renting temporary fence through American Fence Company of Lincoln is a quick and easy process that ensures flexibility for your needs, as well as the guarantee that your site will be protected and secured!
American Fence offers the installation and removal of the three following types of temporary fence:
In-ground chain link fence which consists of posts being securely driven into the ground.  This is the most secure option which is typically used for large events and construction sites.
Portable panel systems which utilize a panel/stand system.  Commonly used for events and sites where temporary fence needs to be reconfigured over time or is placed directly on top of existing concrete or asphalt.
Screened temporary fence which generally includes in-ground fencing and windscreen.  Commonly used for creating privacy for events or job sites, but also used as an opportunity to reduce dust and debris from flowing into public areas.
American Fence Company of Lincoln will assist you in determining the best solution for your temporary fence needs.
Contact us at 402-467-2511 or https://lincolnfencecompany.com/ today for a free consultation.