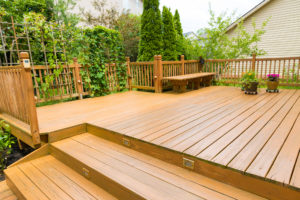 American Fence Company always is working on evolving and growing, and 2018 was a tremendous year for us. Along with the other new divisions we've launched this year—American Access Company and American Playground Company—we are now proud to tell you that we are now offering landscaping services with our new division: American Landscape Company.
At American Fence Company – Lincoln, we were the ones to spearhead and lead the cause on this new idea. We have already completed a handful of beautiful landscaping projects, and are excited for all the projects we'll be working on in the future. A few of our specialties include patios, pergolas, decks, railings, sod and irrigation installation, retaining walls, fire and water features, landscape design and more.
Exhibit your own personal style on your property through the elegant art of landscaping. A well-planned and maintained landscape will lift your mood while also leaving a favorable impression. Designing and planning your landscape helps set your property apart in a positive way.
Our vendors as well as our residential and commercial put their faith and trust in us and we work hard to maintain this reputation. We are an insured and licensed outdoor construction company with a thorough, hands-on approach. American Landscape Company has a crew of experts who work diligently to tackle a wide variety of landscaping projects.
Please submit an online request to American Landscape Company or give us a call at 402-325-9255 to discuss your options and get a free estimate today.