American Fence Company of Grand Island is proud to offer PalmSHIELD's newest product line to our customers. Their new product is called Element screening, and it breaks your screening down to its most basic elements: rails, posts and planks. PalmSHIELD's Element screening is idea for architectural screening enclosures with changing elevations or tight budgets. Installers can quickly and precisely field determine post spacings and heights for these screens. PalmSHIELD's Element screening provides a basic approach to building mechanical equipment screening with a very professional and sleek final look.
Element's custom extruded posts make all the difference. These posts are extruded with slots that extend both in and out of the post. This well-thought-out design creates a unique structural shape capable of withstanding high winds. These slots also serve as the means for installing and supporting your horizontal planks. Element's posts will be powder coated to complement the infill option and match your color selection. Post spacing is flexible by simply trimming the rails and infill to match.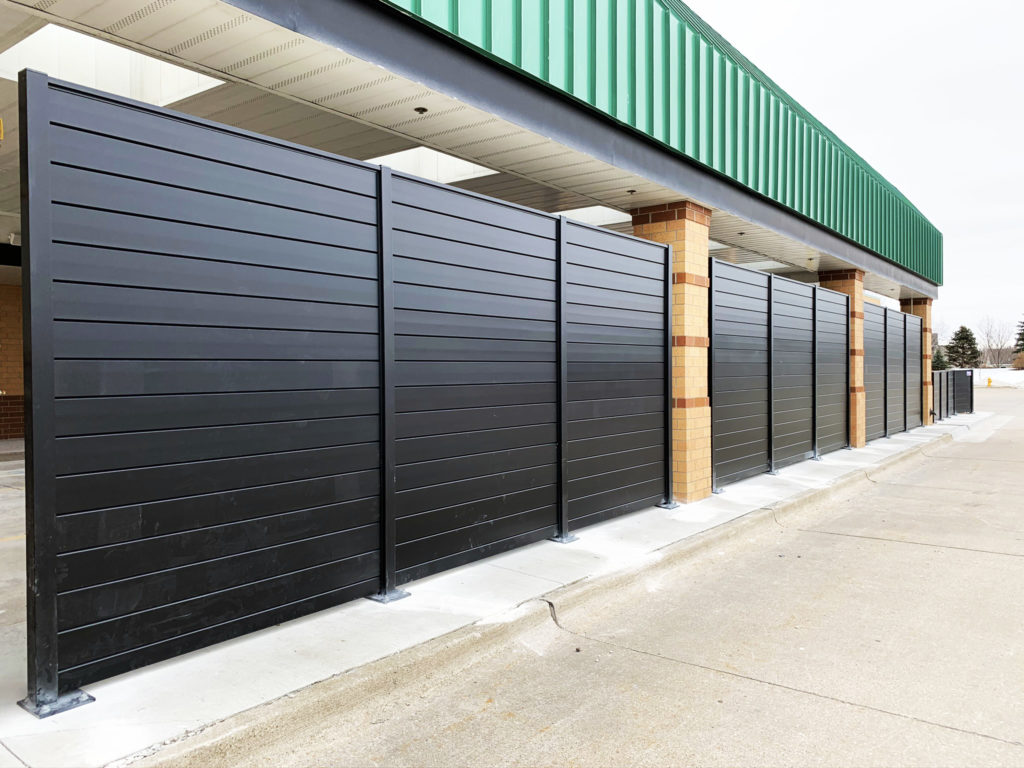 Element screening uses a version of PalmSHIELD's popular fully framed design. Each panel is framed-out with an aluminum top and bottom member. The bottom is rail is a clean 1" x 3" rectangular profile while the top rail is a structural T-shape to provide both protection and a unique finish. Element's framework is powder coated to complement your chosen infill option. All of Element's rails may be trimmed to work with varied post spacing. The bottom rail may be field adjustable based on your terrain.
PalmSHIELD provides a wide selection of infill options for its Element screening systems. Aluminum, vinyl and composite horizontal planks can be used for a semi-private or private view. All the Element solid privacy screening is created using tongue and groove profiles that add additional strength by joining the planks together. PalmSHIELD offers a wide range of color options for both their vinyl and composite infill options. The aluminum planks can be powder coated to any color, and can be used to match or contrast the framework. All of the infill options can be cut down to fit your post spacing.