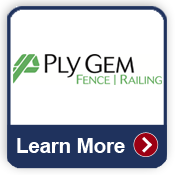 If you are looking for tried and true prefabricated ornamental fencing, American Fence Company has teamed up with Ply Gem Fence & Rail and other reputable vinyl fencing manufacturers.
Everyone is concerned about vinyl fencing cracking, chipping and peeling because of our Lincoln hot summers and cold winters. American Fence Company of Lincoln actually uses a product that is manufactured in York, Nebraska. This product is exclusively designed for use in Lincoln. We pride ourselves on not only using an American made product, but supporting manufacturing in our great state of Nebraska. We have completed many, many vinyl fences over the years. A short drive in your car through southeast Nebraska and it won't be long before you come across a PVC fence.
We have completed such work for the Lincoln Public Schools District offices off Lyncrest Dr and "O" Street in Lincoln. There are many folks in Lincoln and surrounding communities that are enjoying the maintenance free qualities that PVC offers. PVC can also be used as a handrail option. Perhaps you have been over to the Chateau Apartment Development in Lincoln? Many beautiful apartments in that community are adorn with PVC handrail. We also had the pleasure of assisting the Summit Falls Apartment Complexes at 84th and Highway 2 on the south side of Lincoln with handrail.
Click on our FAQ and Gallery links above to learn more about Vinyl Fencing.