What are the Cannabis Fencing Laws in My State?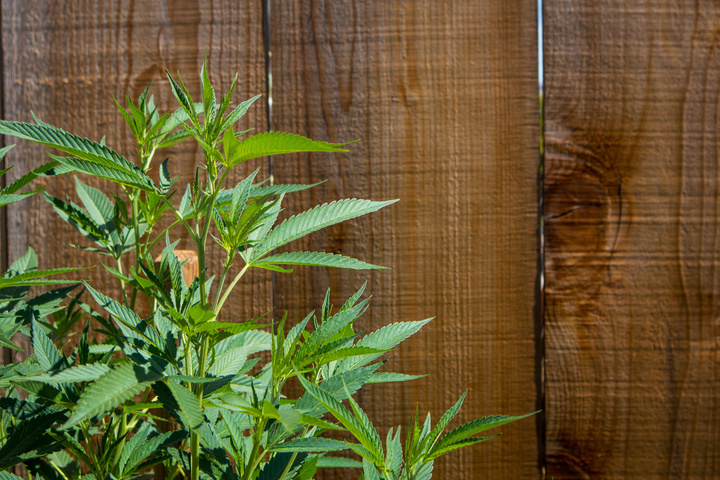 As of the early months of 2022, Mississippi and Rhode Island have joined the list of states legalizing cannabis; and while not every state permits the plants to be grown for commercial purposes (Mississippi, for instance, allows medicinal cannabis only), the participating states—and sometimes the individual counties—write their own rules and stipulations for weed farm fencing. Generally speaking, most require fences tall and thick enough to obscure the plants from public view, but some are very specific about heights and materials. If you want to grow cannabis in Oregon, for example, state legislation mandates a fence no shorter than six feet, with posts fashioned from either wood or metal, and infill cannot consist of temporary materials. Meanwhile, Montana no longer issues licenses for outdoor cultivation as of November 3, 2020 (new weed farms here must now operate within an enclosed building).
In this article, we'll list the basic requirements for outdoor weed farm fencing according to state. However, we want to stress: always consult local codes and authorities before ordering fencing. Marijuana laws are constantly changing, including on the city and county level. So, again, ask your local government what the current laws are prior to picking out your cannabis fencing. (Also be sure to ask if legislation requires lighting and surveillance equipment.)
One last point: numerous states require "sight-obscuring fences." A "sight-obscuring fence," per Law Insider, consists of "wood, metal, concrete or masonry arranged in such a way as to obstruct or obscure vision, or to enclose an area." In this situation—again, check with local codes first—we recommend the solid privacy fencing available at our online platform, America's Fence Store.
Alaska
According to the Alaska State Legislature, the legality of outdoor cannabis is determined on a local government basis; some communities do not allow outdoor cultivation at all, instead requiring "a fully enclosed secure indoor facility or greenhouse with rigid walls, a roof, and doors." For those communities that do permit outdoor weed farming, however, "an expanse of open or cleared ground fully enclosed by a physical barrier" is required. Said barrier needs to consist of "a sight-obscuring wall or fence at least six feet high." Ask if local authorities allow vinyl privacy fences, as this material is resistant to brutally cold winter temperatures (such as those in Alaska).
California
As the first state to legalize medicinal marijuana (in 1996), California is ahead of the curve when it comes to state and local cannabis ordinances. That said, each county makes its own decision on legalizing marijuana. San Bernardino County, for instance, bans cannabis cultivation, manufacturing, and retail; in the county to the south—Riverside—however, all three are approved. Yet, in Calaveras County to the north, you can only cultivate and sell—manufacturing is illegal; meanwhile, Marin County only allows retail. To determine whether your California county allows weed farming, check out this useful tool at CannaBusiness Law—but, again, ask your local authorities what the most current laws are.
Each county specifies what's permitted when it comes to cannabis fencing. LA County requires a six-foot solid fence made of wood, masonry, or similar material. (Chain link is not accepted). Santa Barbara County also specifies six-foot fencing but allows taller barriers—noting that operators may be required to attain permits from the Planning & Development Department.
FOR A FREE ESTIMATE: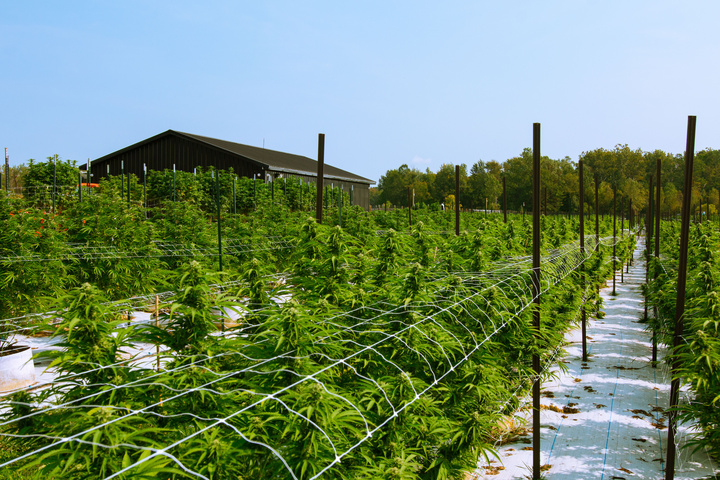 Oregon
The state of Oregon requires marijuana producers to mark on their license applications whether they plan to:
a) grow cannabis in a fully enclosed outdoor area, wherein the cultivation area's protected by a fence or wall at least six feet high. The marijuana fence needs to feature wooden or metal posts securely anchored to the ground. Oregon is more lenient than some states when it comes to fence infill. You can install a fence with "woven or welded wire mesh" such as chain link. However, solid fencing is a more secure, protective choice.
b) grow cannabis in a "solid, permanent structure."
c) use a combination of the above methods—indoor and outdoor weed cultivation.
When applying, you also have the option of marking your intentions as: sealing off your Oregon cannabis farm through means other than a fence. If you decide not to install a marijuana fence, you'll be required to submit a "detailed security plan that includes the specific actions and methods […] to prevent public access to the premises" subject to approval by local authorities. Temporary fence materials are not acceptable in the state of Oregon.
Washington
Washington was also ahead of the cannabis game, being the first state to legalize recreational marijuana in December 2012 (medicinal use had been permitted nearly a decade and a half earlier, in 1998). However, Washington's minimum fence height requirement for outdoor weed farms is taller than that of the states previously covered; here, your marijuana fence cannot be less than eight feet tall and must be of the "sight-obscure" variety (so, privacy fence panels, not chain link).
Washington requires cannabis farm built at least 1,000 feet from neighboring structures such as playgrounds, schools, and public parks. Also, neighboring outdoor grow areas must be at least twenty feet apart—so you and the weed face next door cannot share a fence.
Colorado
In Colorado, you have a few options as far as cannabis fencing goes. Chain link fences are allowed, though they must meet a minimum height standard of eight feet and be composed of metal nine gauge or lower. Or, you can install a six-foot chain link fence with a one-foot barbed wire arm sporting no less than three strands running the entire length of the fence. Support posts must be constructed of steel and securely anchored. All of this is possible here at American Fence Company, as we install razor-sharp concertina wire that's used at high-security venues such as correctional facilities.
Colorado also lists requirements for cannabis fence gates. All gates of ingress and egress must a) be constructed of nine gauge or lower metal, and b) measure either eight feet from the ground or six feet with a one-foot barbed wire arm featuring no less than three strands. Be sure to check out our selection of gates—and do note that our gate division, America's Gate Company, can fulfill custom design orders.
FOR A FREE ESTIMATE ON FENCING FOR A WEED FARM:
Michigan
Outdoor cannabis growth in Michigan cannot be visible to the public from either ground level or from adjacent property and structures. (For this reason, do not allow your plants to grow taller than the barrier enclosing them.) Your weed farm fence can be made of wooden slats, chain link, or similar material. Cannabis fences in Michigan must be anchored, attached, or affixed to the ground.
Oklahoma
In Oklahoma, whether you are cultivating outside or in a greenhouse, you are required to surround your facility with a fence at least eight feet tall. Alternately, the fence can be six feet tall and include two feet of top guard armed with sharp edges or pointed—such as barbed wire. While you can install a chain link fence (nine gauge or lower) or one made of wood or similar material, the posts need to be fashioned from steel and securely anchored. All of the above options and principles similarly apply to cannabis fence gates.
Maine
Per Maine's government, cannabis fencing in this state must be either a) eight feet tall, or b) six feet tall with no less than three strands of barbed wire fencing on top. Maine also has some specifics regarding fence post installation. All corner and line posts must be composed of steel and installed in no less than 48 inches of concrete. The diameter, wall thickness, and spacing of your corner and line posts must also meet the Chain Link Fence Manufacturers Institute guidelines for wind load of 85 mph.
If you opt for chain link fencing in Maine, your barrier must meet the requirement of nine gauge or lower. The law also requires cultivators to cover their fences with a sight-obscuring material. Talk to your local codes if windscreen or wooden slats—both available from our temporary fence division, American Fence Rental—are permitted in your community.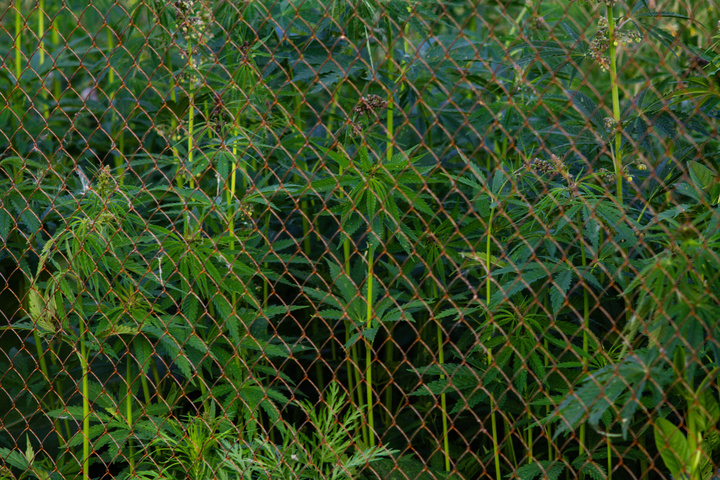 FOR A FREE ESTIMATE ON MARIJUANA FENCES:
Nevada
Nevada's government specifies that cannabis fencing is subject to approval from local law enforcement—so be sure to consult your local authorities. Generally speaking, codes require the following: a) a solid block wall or chain link fence no less than 8 feet high, and b) a second wall or chain link fence—also eight feet high—installed at least ten feet but no more than twenty feet from the inside of the first fence.
Vermont
The Cannabis Control Board of Vermont only specifies that weed farm fences "must be sufficient to prevent unauthorized entry to any cultivation areas." Seed to Sale Security vaguely points out that Vermont cannabis fencing must "reasonably prevent visibility to the public." Contact your local authorities to learn what specifications your fence must meet.
New Jersey
New Jersey requires outdoor grow areas—and the properties containing them—to be entirely enclosed by eight-foot fences made of chain link or similar material and securely anchored to the ground. The fence needs to meet your local municipal code provisions. Gates must include commercial-grade, non-residential door locks—which our gate division, America's Gate Company, can help you with.
New Mexico
The state of New Mexico requires six-foot weed farm fencing that obscures views of the cultivation area from all sides. You have the option of installing privacy fencing or covering the fence with a sight-obscuring cover.
South Dakota
In 2020, South Dakota became the first state to simultaneously legalize recreational and medicinal marijuana. All cultivation areas—whether using greenhouses or growing the plants outdoors—must include six-foot-high fences that are either sight-obscuring or feature a sight-obscuring cover.
Virginia
Presently, in Virginia, marijuana can only be grown for personal use—and only four plants may be grown per household. You are permitted to cultivate outdoors, but the plants cannot be visible from the road or from nearby public buildings. The plants must be secured in a locked enclosure. Consult your local authorities for marijuana fencing rules and regulations.
Rhode Island
Rhode Island requires "enclosed and secured in a manner that prevents access by […] persons not permitted by the marijuana establishment to access the area." Consult your local authorities to find out what you specifically need for your cannabis fencing.
Massachusetts
The first state on the east coast to legalize (in 2016), Massachusetts requires "adequate security measures to ensure that outdoor areas are not readily accessible to unauthorized individuals" that includes a "perimeter security fence designed to prevent unauthorized entry to the cultivation facility with signs notifying observers that it is a limited access area." Consult your local codes and authorities.
FOR A FREE ESTIMATE ON CANNABIS FENCING IN YOUR STATE: